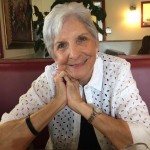 Virginia Gayle Mattheiss, age 81, died peacefully in her sleep on Sunday, August 5, 2018. She was born on January 12, 1937 in Hattiesburg, Mississippi to A.B. and Iva Herchenhahn and was one of ten children. A loving wife, mother, grandmother, and great-grandmother, Gayle's number one priority and love was her family. Everyone she met heard about her children and grandchildren and knew she loved them deeply and unconditionally. Gayle's second love was for her church family. She never missed an opportunity to be in church. Gayle had an unwavering faith that was like none other. She continued to witness to everyone she met up until her last day on this Earth.
Gayle is preceded in death by her parents, A.B. and Iva Herchenhahn; her brothers, Allen Herchenhahn and Fred Herchenhahn; and her sisters, Lucille Jones and Imogene Brunson.
Gayle is survived by her loving husband, Jerry Mattheiss and her daughters, Wendy Mattheiss and Stacy Mattheiss. She is also survived by her grandchildren, Alycia Marie Winegardner; Kaitlin Hopkins and her husband, Jordan Hopkins; Brooke Taylor and her husband, William Taylor; and Bailey Holland; and great-grandchildren, Jacob Gebhardt, Beckham Hopkins, Kallie Taylor, and twin girls due January 1, 2019. Additionally, she is survived by her sisters, Louise Bates, Wilma Jones, Dawn Gundersen, and Judy Ray; and her brother, Dr. J.D. Herchenhahn.
Family will receive friends on Saturday, August 11, 2018 from 10:00 AM to 11:00 AM at Westport Baptist Church Denver, NC. Funeral Service will follow at 11:00 AM.
Rev. Steve Owenby, Pastor of Westport Baptist Church, Dr. J.D. Herchenhahn and Rev. Mike Young will officiate
In lieu of flowers for the family, please send donations to Westport Baptist Church and designate the "He Is Worthy" fund in honor of Gayle Mattheiss.
The Good Samaritan Funeral Home is serving the Mattheiss Family