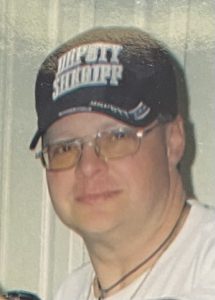 Tommy Alan Sisk,52 passed away at his home in Vale North Carolina. He was born in Lincolnton on June 29, 1970. He attended East Lincoln High School, as well as the police academy at Gaston College.
He enjoyed attending races, auctions, fishing, and collecting.
He is survived by his daughters Brittany (Kyle) Gierhart of Auburn Indiana and Courtney (Gavin) DuBois of Garret Indiana; Son Chance Sisk of Auburn Indiana; Brother Billy (Beth) Sisk of Vale North Carolina; Grandchildren Payton, Anberlin, Sebastian Gierhart; Nephew and Niece Jason and Kasey Sisk.
He was preceded in death by his parents, Harry and Katherine (Correll) Sisk. And His Sister, Camilla Sisk.
Celebration of Life will be held Friday, October 21, 4:00-6:00PM at Sharon Baptist Fellowship Hall  2388 NC-73 Iron Station, North Carolina.