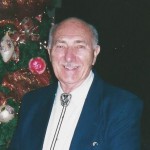 Thomas Bright Keene Jr., 89, of Denver, NC. passed away on September 28, 2017 at Novant Health – Huntersville Medical Center. Born on December 22, 1927 in Jacksonville, Florida, he was the son of the late Thomas Bright and Flossie Keene Sr.
Tom proudly volunteered at the age of 17 to serve in the United States Navy during World War II. After the war, Tom went back to school and graduated with a college degree. He was employed as an engineer (material handling) and later went on to becoming an investment broker. In 1975, Tom joined his wife, Josephine, in a Tupperware Distributorship.
Tom was a member of the Holy Spirit Council (Denver, NC,) Knights of Columbus where he was active in the Operation Lamb Program which helps children with disabilities and with East Lincoln Christian Ministries Meals Program. He was an original member of Holy Spirit R.C. Church in Denver where to this day he was an active member. He enjoyed dancing, big band music and gardening. Tom traveled extensively with Jo before and after his retirement.
Besides his parents, Tom was preceded in death by his first wife, Alpha Mae Keene and son, David Keene
Tom is survived by his wife of 43 years, Josephine Thill Keene; children Connie K. Redus of Denver, NC., Sherry Brown of Lacey, Wa., Michael Keene (Cindy) of Raleigh-Durham, NC., Debbie Baucom (Bo) of Matthews, NC., Patrick Keene of Denver, NC., Teresa Chelko (Kevin) of Huntersville, NC.; 2 step-children Bob Bundy of Charlotte, NC and Pat Bundy (Barbara) of Belmont, NC.; 12 Grandchildren and 15 Great Grandchildren.
A Funeral Mass will be celebrated at 11:00 AM on Tuesday, October 3, 2017 at Holy Spirit R.C. Church 537 North Highway 16 (Business) Denver, NC. 28037. Members of the United States Navy Honor Guard and the Holy Spirit Council Knights of Columbus will participate. The family will receive friends just prior to the Funeral Mass in the church and following the Funeral Mass in the Parish Activity Center where a luncheon will be served.
Donations in Tom's memory can be made to The Holy Spirit Council – Knights of Columbus Operation Lamb Program.
The Good Samaritan Funeral Home Denver, NC, is assisting the Keene Family