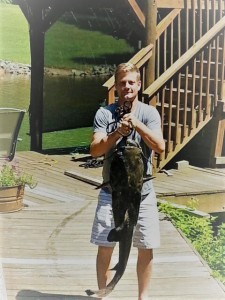 Seth James Wohlford, 35, of Mooresville passed away on August 15, 2018. Born on May 15, 1983 in Roanoke, Virginia. Seth was the son of James and Melinda Wohlford of Mooresville NC.
Besides his parents, Seth is survived by his brother and sister-in-law Micah and Kristin Wohlford of Asheville NC; grandmothers Lavonne Napier of Denver NC and Mary Anne Marchant of Penhook VA; aunt Kathie Trettel and her husband Don of Fall City, Washington; uncles Michael Wohlford and his wife Trudy of Roanoke, VA and Tommy Wohlford of Penhook, VA; and his girlfriend, soul mate and love of his life, Angela Emory and her sons, Alex and Dallas of Denver, NC.
Seth worked as an accomplished carpenter and chef during his career. He was avid outdoorsman who loved fishing, camping, hunting, snow skiing, water skiing and hiking. Seth touched the lives of so many people during his life. He was compassionate and loving to everyone he met. He could always make you laugh. He made every person feel like they were special.
Seth had a quirky sense of humor and loved to make people laugh. As a child he loved collecting bugs and sharing the stories behind them. Seth loved to star gaze and share astronomy with the ones he loved. He was always eager to help others and placed their needs above his own. He loved to cook and was very good at it.
A Celebration of Seth's life will be held on Sunday, August 19, 2018 at 1 p.m. at The Good Samaritan Funeral Home.
In lieu of flowers, the family requests donations in Seth's memory to:
Take a Kid Fishing or The Mooresville Soup Kitchen.
The Good Samaritan Funeral Home is serving the Wohlford Family.