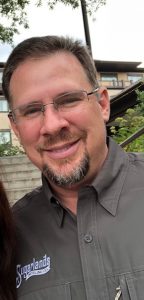 Roy Edward Kibling passed away Saturday, September 8th, 2018. Roy was born October 3rd, 1970 to surviving parents Ruth and Bernard Kibling parent-in-law Sheila J Branscome. He married Laura Branscome Kibling on October 2nd, 1993 and would have been married 25 years this year; he was loving father of Taylor and RJ Kibling. Survived by brother Bernie Kibling and sisters Judy Kibling Fox and Janet Kibling Howell; Uncle of Kip, Bo & Kirk Kibling and Jewel Kibling Salazar, Nic Kibling and Brianna Fox, Andrew and Katy Quick; Current employee of Surgarlands Distilling Company. Arrangements are made by the Good Samaritan Funeral Home, Denver, NC. 704-483-2124.
Service to celebrate Roy's life will be at 7:00pm Wednesday, September 12 at Salem United Methodist Church, 378 North Pilot Knob Road, Denver, NC 28037
Roy was an avid sports fan enjoying life to its fullest and passed enjoying a football game with his wife and friends at the UNCC stadium in Charlotte. Being born in Iowa, the Hawkeyes was his preferred team but his alma mater Appalachian State was his second. They were enjoying a game between App State and Charlotte. These type of social events is where Roy really shined. He always went out of his way to be friends with everyone that he met and within minutes of meeting him you would feel like you've known him all your life. He also went out of his way to keep up with family and friends. If he was on a business trip, he would make sure and try to include a trip to see any family that is nearby. He would travel to family reunions, attend out of state weddings, or anything that involved family.
Roy was a devoted husband and father to his family. He was a hard worker and devoted all his time to do what was necessary to provide for them and set up a future for them. As mentioned above he was friends with so many people. Where a typical person has one best friend, he had many people that would call him best friend and many others that would just look up to him as a role model. Part of this was due to his passion for everything that he did and he would make it known, good or bad.
One of his happiest recent memories would be getting his first fishing boat this year. He was like a kid in a candy store so happy to live one of his dreams of fishing whenever he could. Their recent move to Tennessee was another realized dream come true as he took his most recent position with Sugarlands Distilling Company "selling moonshine". It truly was his ideal job and house, located near Douglas Lake where he tried to get out as often as possible, enjoying life and family moments.