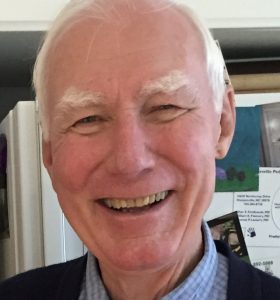 Robert (Bob) Dean Copeland, 84, formerly of Meadowlands, passed away on November 25, 2019 at his home. He was born October 3, 1935, in Wapakoneta, OH, son of the late Cornell and Dorothy Heil Copeland.
Robert held a Bachelor of Mechanical Engineering degree from The Ohio State University and a Master of Business Administration degree from Gannon University. He worked for American Sterilizer Company (AMSCO) in research & development, marketing, and management for 24 years.
He served in the United States Army Corps of Engineers from 1958-1962 with a year of service in Korea, and in the Army Reserves through 1969. Robert was proudly selected to serve on the Army Rifle Team, earning Distinguished Rifleman and Silver Excellence-in-Competition Rifleman Badges. He received an honorable discharge with the rank of Captain in 1969. Robert was a life member of the National Rifle Association, and continued to shoot competitively with notable success.
Robert was a true gentleman, and known for his determination to succeed in any activity or project he undertook, from building his first computer or woodworking in the basement to successfully completing five marathons. He was an avid golfer, and proud of his hole-in-one. He enjoyed power-boating on the Great Lakes, and served on the Erie Power Squadron Bridge. He was a devout Ohio State fan, and enjoyed playing pool making sure each shot had at least two banks.
Robert's philosophy he tried to use throughout his entire life was: "For every day, you need to wake up, stand up, stay standing up, and be grateful that you can. Then think positive and see what you can do today to make a difference in your life, as well as someone else's."
In addition to his parents, Robert was preceded in death by his brother, Paul Copeland.
Robert is survived by his wife of 58 years, Grace M. Lucas Copeland; three daughters, Susan (Hart) Merriam of Ocean Isle, NC, Janet (Brent) Sesler of Erie, PA, and Anne (Tom) Brant of Huntersville, NC; six grandchildren, Nick (Kelsey) Merriam, Lucas Merriam, Morgan Sesler, Ryan Sesler, Margaret Brant and Dean Brant; and his brother, Lowell Copeland of Galloway, OH.
A memorial service to celebrate Robert's life will be held at the Good Samaritan Funeral Home, 3362 N. Highway 16, Denver, NC, on Friday, November 29 at 2 pm. Friends may call prior to the service. An interment memorial service for friends and family will be held at Sunset Memorial Park, 6265 Columbia Rd., N. Olmsted, OH, on Friday, December 6. In lieu of flowers, memorials may be given to the charity of your choice.