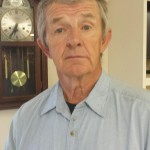 Robert Alex Severt Sr, 65, of China Grove, NC. passed away suddenly on August 22, 2015. Born on April 14, 1950 in New Hanover County, NC., he was the son of Helen Marguarite Clark Severt and the late Bryant Severt. Robert owned his own grading company. Before that he was a mechanic at Rimtrax and Martin Marietta
Besides his father, Robert was preceded in death by his wife, Dale Corriher Severt and his sister, Diane Severt Schaefer.
In addition to his mother, Robert is survived by his son, Robert Alex Severt Jr. and his wife, Paula; grandson Noah; siblings Kathy Kirby and her husband, Cliff, Buddy Severt, Samuel Severt, Marilyn Severt Shores ; niece Amy Troyer and many extended family members.
Family will receive friends beginning at 5:00 PM on Monday, August 31, 2015 at Rogers Park Baptist Church 309 E. 24th Street Kannapolis, NC 28083. The Funeral Service will begin at 6:00 PM. Pastor Scott Faw will officiate.
The Good Samaritan Funeral Home, Denver, NC is serving the Severt Family