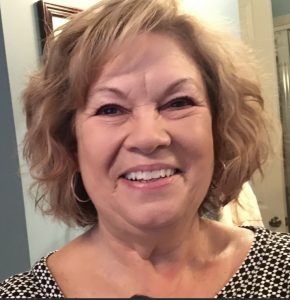 Early in the peaceful morning of October 28, 2022, beloved mother, daughter, grandmother, and friend, Paula Haigler Rice Thomas, found everlasting rest and comfort in the arms of Christ.
Paula was born on April 9, 1949 to Ruth Turner Haigler and the late Paul Melvin Haigler. She is also preceded in death by her beloved son, Gary Paul Rice and her sister, Karen Lynn Haigler. 
A Charlotte native, she was proud to be a part of the first graduating class of Independence High School. After spending a few years as a stay at home wife and mother to her two young sons, John Jr (Johnny) and Paul, she went to work as a teacher's assistant for the Charlotte Mecklenburg School System. Working in the classroom was so special to Paula. Not only was she able to share her love and support for the children in her class, it also allowed her to be home in time to make sure her own family, which had now grown to include daughter, Emilee, had home-cooked meals on their table every night. She ran her home like a finely tuned machine, never wanting anyone to feel like they didn't get the best from her, even when she was surely exhausted herself. 
While much of her work life was spent in the classroom at both Windsor Park Elementary and University Meadows Elementary, she also worked in the front office and in the media center.  Eventually she found herself working as the financial secretary at Harrisburg Elementary. There was really no space Paula could not fill with her naturally sweet demeanor, smarts, and dedicated work ethic. 
However, it would be at Harrisburg Elementary that she would meet some of her most cherished allies and friends. These women, dubbing themselves the "Sassy, Awesome, Spirit Sisters" (SASS), supported and cared for one another and enjoyed many years of camaraderie. Always there for one another through triumphs and loss, they truly became a second family to Paula. Paula knew how to be a friend, and once you were her friend, she was there for keeps. This became all the more evident as the disease that would eventually take her life brought several of her life-long and dearest friends to visit her often, even though the trip was long and the visits not always easy. 
We are eternally thankful for the bond that these women shared and for the love and support that they showed our Paula.
As wonderful of a friend that Paula proved to be, her life was invested whole-heartedly into her family. Creating memories that will forever be treasured, she somehow made everything feel so special. Anytime that any of her children or grandchildren were doing anything – from a school play to a project in their yard, first day of school or first day on the job, she was the first to show up and heap praise upon them. 
Even though her life was full, Paula lived for the slow, peaceful moments, and never once did anyone feel rushed or pressured in her presence. Some of her family's most treasured memories will be of her in the kitchen, wearing an apron that was ALWAYS a little extra snazzy and, of course, holiday and/or event specific, music playing and her face lighting up as each one entered her warm and inviting home. While this was extended to everyone, there may not have been any two people other than her own children that she loved quite like she did her daughter-in-law Darlene and son-in-law James. It was often a joke that while in her eyes, Johnny and Emilee could do no wrong, unless it came to Darlene and James, in which case she, nine times out of ten, would take their side, leaving Johnny and Emilee shaking their heads, knowing they had obviously picked their spouses well. Maybe a little too well. 
Her love of Jesus, her church, her family and friends is just too hard to adequately put into words, but she modeled faith, courage and grace in all that she did. 
As her family grew to include several grandchildren, she poured into each of them. Slow to anger and quick to laugh, she treated each grandchild as if they were the most beautiful things in her life. Each can recall sweet memories of Waffle House trips, snuggling up on the couch to watch cartoons, or time on the front porch swing as she swatted away bees and other bugs assuring them that "I won't let them get you." To her grandchildren, she was always a protector, always an advocate, and always a friend. 
Forever willing and ready to lend a helping hand, she would often show up with a car full of whatever she thought any of us – friend, family, or other – needed for any particular reason. She never just showed up to a party, she made the party happen. She never took half-measures to make people feel loved. She always found a way to bring security and comfort to those who didn't have it.
All who knew Paula will forever miss her kind, gentle soul and bright smile, perhaps none more than the family that she lovingly and tenderly cared for. We will miss her calls from Belks, telling us how something none of us needed was on sale, but she was getting it for us anyway, and "what size did we need?" We will miss her calling to tell us it is "National Umbrella Day" or "National Pizza Day" or whatever she heard that morning on TV. We will even miss her and Patsy calling whichever family member they could reach first to get directions home from Cherry Grove beach, a trip made dozens of times, yet neither could seem to remember the way. Mainly because they missed a turn because they were always talking too much, had the radio too loud, and were most concerned where they were going to stop and get coffee and a donut. The list of things we will miss is endless and achingly precious. 
Left behind to honor her legacy is her mother, Ruth Haigler, children, Johnny (Darlene) Rice and Emilee (James) Martin, grandchildren, Ashlee (Aaron) Kennemore, Lauren Rice, Austen (Johnathon) Biagi, Jack (Lily) Martin, and Kaylee (Jake) Patterson, and great-grandson, Drew Kennemore. 
As broken-hearted as we are to lose her, we are beyond grateful that she is now able to reunite with those who have crossed into Heaven before her.
How we will long to hear her crack herself up one more time, pull together one more pot of Brunswick stew for our family dinners, walk into her beautifully decorated home for one more holiday, or hear her call one of us "my precious" again – and how extraordinary these ordinary moments were. 
If there was one thing Paula excelled at, it was creating, enjoying, and celebrating all of life's goodness, especially if that goodness was happening for or because of one of her children or grandchildren. She graced every person she came across with unmatched and abiding comfort that left them feeling safe and warm.
Although we feel that the ache in our hearts will never cease in her absence, we can rejoice in the fact that Paula left such an impact on the hearts and minds of so many, cementing her legacy forever. Her approach to life was flexible, yet intentional. Never stumbling in the face of unknowns, she ensured all that her response to adversity was always one of courage, class, and calm. 
In her memory, we will try to take each step forward mirroring this example. We will not be afraid to laugh at ourselves. We will pick up a gift for a friend, just because they're on our mind. We will find a recipe we love – and share it with love. 
Life can be many things – unpredictable, challenging, joyous, beautiful, and sometimes – it flat out breaks your heart. None could say this was more true than Paula herself. Even still, she was an example to never wallow in sadness or take great things for granted. Instead, keep smiling and make sure that everyone is loved… and fed. That is who she was, and who she will remain in our hearts.
Although our grief may feel like fear as we learn to move forward without her steady presence, we also know how blessed we are to have had the opportunity to feel her warm hugs, hear her cheerful laugh, and to know that we were unconditionally loved by the best. 
The family would like to extend special thanks to Barry and Sharon Sims, Gay Harris, sister-in-love, Patsy Waldrop, all of the SASS sisters, Ashlee Collard, Bob Thomas and the staff at both Abernathy Laurels and Hospice of Iredell County. A special thank you to Hayley Ward and Cindy Medlam. Each of you have shown extraordinary love and kindness to mom as well as held our family up with your encouraging words, care for mom, and visits that meant more than you will ever know. 
A graveside service will be held on Monday, October 31st at 1:00pm at Gethsemane Memorial Gardens in Charlotte, North Carolina. 
Pallbearers will be Johnny Rice, James Martin, Jack Martin, Aaron Kennemore, Jonathan Biagi, and Jake Patterson. The Good Samaritan Funeral Home in Denver, NC will be serving the family.
Psalm 94:18-19
When I said, "My foot is slipping," your unfailing love, LORD, supported me. When anxiety was great within me, your consolation brought me joy.