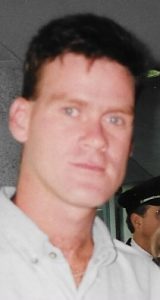 Paul M. Foust, 52, of Denver, NC passed away at the Levine-Dickson Hospice Center Tuesday, August 18th, 2020.

Paul at 22 had won the fight with cancer but lost the war 29 years later.

Paul had the biggest heart, he'd give the shirt off his back and his last dollar to anyone in need. He loved kids, animals & NASCAR. Paul was talented at so many things. 
In the Navy, he was an underwater welder, on land he was a mechanic, jack of all trades, and a truck driver.
He was preceded in death by his wife Erica N. Foust and his father Kenneth David Foust.

He is survived by his beloved fur babies Krissy and Kroslah who were his constant support and companions.
His mother Linda Womack and her husband Wayne of Denver, NC, Stepmother Peggy Foust of Phoenix AZ, Sister Lisa Jay and husband Andy of Summerfield, NC, Nephew Zachary Hedrick, niece Madison Hedrick,
Stepsister Jennifer Horner and husband, Barry, Stepbrother Jim Motta, and wife Lori.
Many Aunts, Uncles, Cousins, Niece & Nephews in the Foust Family, and the McArthur Family.
A small Memorial Service will be held on September 5th at 2 pm at the Rock Springs Camp Ground Arbor at 6831 Campground Rd. Denver, NC

In lieu of flowers please make a donation in his name to Children's Dream Racer or your local Children's Cancer Charity.