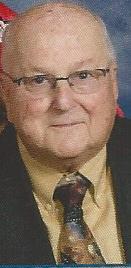 Owen Mickey Little Jr.80,passed away Thursday March 15th,2018 at Novant Hospital surrounded by his family and friends.
Mickey was born November 30th,1937 in Boone ,N.C.to Owen M Little and Ella Davis Little. Mickey graduated Cove Creek High School in Watauga County, after graduation Mickey enlisted in the Army and became an MP while serving in Japan. When he retuned home from Japan he enrolled into Kings College in Charlotte where he met his wife Patricia and they were later married in 1962.
Mickey worked in the building products industry for over 30 years, then later going back to school to become a real estate agent for several years.
Survivors include his wife of 56 years Patricia Stanley Little ,his son Benjy Little and wife Cindy of Kernersville ,N.C., his grandson Drew Little of Jacksonville Florida. His sister Odenia Wilson of Boone, N .C. and numerous nephews and nieces and his best fur baby Diva, who would sit with him daily in their favorite chair.
Visitation will be Sunday March 18th,2018 at Salem Methodist Church in Denver ,N.C. at 2:00 pm, followed by a service at 3:00 P.M. conducted by Pastor David Greene
A graveside service will be Monday March 19 at Sharon Memorial Park in Charlotte at 1:00 P.M..
Memorial donations may be made in memory of Mickey Little to Salem UMC ,378 Pilot Knob Road ,Denver ,N.C. 28037
Funeral Arrangements are in the care of Good Samaritan Funeral Home in Denver, N.C.