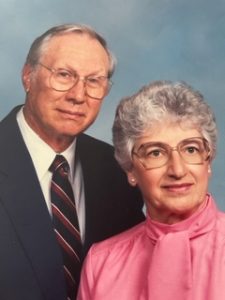 "Together Again" 
Olga Zimmerman, age 95, passed away on December 28, 2021in her home in Denver, North Carolina.  Olga was born in Cleveland, Ohio on June 30, 1926 to immigrants from the Ukraine, Wassel and Mary Pidzyraylo. Shortly thereafter, the family moved to Medina, Ohio to start a family farm and this is where Olga grew up and lived for most of her life. Olga earned a Bachelor's Degree from Baldwin Wallace College and taught school in Medina County schools for over 30 years. She and her husband, Burt, retired to the mountains of Jefferson, NC in 1981and then moved to Denver, NC in 2005 to be close to their daughter, Lisa.
Olga was preceded in death by her parents; her sister, Rosemary Larbig; and her husband of 59 years, Burton Zimmerman.  She is survived by her three children; Lisa Miller of Denver, NC; Elizabeth (Matt) Palumbo of Canton, OH; Mark (LuAnne) Zimmerman of Loudon, TN.  She had three local grandchildren:  Alex (Caroline) Miller of Gastonia; Hannah Miller of Denver; and Zach Miller of Lawndale.  Five more grandchildren out-of-state: [Kyle (Roxi) Zimmerman of Vancouver BC; Julie Zimmerman of Bozeman, MT; Dia (Matt) Geis of Canton, OH; Gina (Mike) McVetta of Medina, OH, and Nina (Zachary) Patterson of Barberton, OH, along with five great–grandchildren.  Olga is also survived by her daughter-in-law, Joyce Zimmerman of Slidell, LA and sister-in-law, Bernadette Zimmerman of West Jefferson, NC.  
Olga's wishes were to be cremated.  There will be a Memorial Service at The Terraces Clubhouse in Denver, NC on January 7 @ 3 p.m. with Reverand Steve Autrey officiating.  Masks are recommended.  Olga will be laid to rest at Ashelawn Memorial Chapel & Gardens in Jefferson, NC at a later date.
Donations in Olga's memory can be made to Denver United Methodist, PO Box 661; Denver NC 28037.