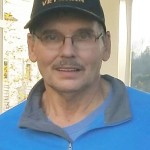 Mac Allen Thomas, 64, of Sherrills Ford, NC. ' gained his wings' on December 20, 2015. His wife of 47 years, Diana, preceded Mac in death on August 17, 2015. He was born on June 27, 1951 in Harmon, Va. to Lucy Boyd Thomas and the late Cecil Thomas.
Mac served proudly in the United States Army serving 2 tours of duty in Vietnam.
Besides his wife and father, Mac was preceded in death by his step-father Clarence Blevins of Bradshaw, WV., brother Lewis Carl Thomas; mother and father-in-law Raymond and Mae Lawson of Iaeger, WV. and brother-in-law, Johnny Charles of Iaeger, WV.
Mac is survived by his son Mac Thomas Jr. and his wife, Amanda; daughter Jennifer Johnson and her husband, Shawn; mother Lucy Thomas of Statesville, NC.; 5 grandsons Mac, Zack & Jacob Thomas, Seth Hamb and Nicholas Johnson; brother John Thomas of Statesville, NC.; 2 sisters Janey Lester and husband, Bradford of Statesville, Phyllis Hagermann of Statesville, NC.; 2 special sister-in-laws Linda Thomas of Gilbert, SC. and Kim Collins of Princeton, WV.; many nieces and nephews.
A Celebration of Mac's life will be held at 2:00 PM on Saturday, January 2, 2016 at The Good Samaritan Funeral Home 3362 North Highway 16 Denver, North Carolina 28037. Military Honors will follow. Family will receive friends beginning at 12 Noon.
Memorials in Mac's Memory can be made to the Wounded Warrior Project