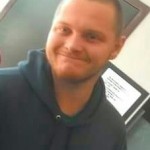 Jonathan Meyer, 21 of Claremont passed away unexpectedly Wednesday July 26, 2017 at Catawba Valley Medical Center.
Jon graduated high school in 2014 and was a member of Open Door Baptist Church.
He was proceeded in death by his paternal grandfather Joseph "Scooter" Culbertson and maternal grandfather Johnny Jack Cooper.
Survivors include mother Tanis and father Shawn: 1 daughter Elena, sisters Heaven and Madison, brother Tyler, grandmothers Debbie and Carolyn, grandfather Tony, Aunt Angie, cousin CJ and nephews and niece.
Jon was loved by many and was a loving son, father, and friend. He was known for being committed to his family and friends and especially his young daughter. He was an avid outdoorsman and loved going fishing with his family and friends. He loved helping others every way possible so the family continued his legacy by donating his organs to help complete strangers in their time of need. He will be truly missed and forever loved.
In lieu of flowers, donations to assist the family funeral expenses would be greatly appreciated.
A memorial service will be held Saturday August 5, at 4pm at The Good Samaritan Funeral Home in Denver, NC.