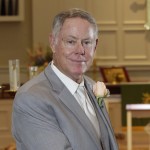 John William Rathemacher, Jr. of Denver, NC, died on Saturday, October 10, 2015 at the age of 63 at his home in Denver, NC.
John was born in Navesink, NJ on January 1, 1952, son of the late John William Rathemacher, Sr. and Patricia Clancy Rathemacher. John attended Belmont Abbey college in Belmont, NC and graduated in 1974. John spent most of his life as an insurance adjuster, including traveling to sites of major storms all over the country. John enjoyed spending his leisure time on Lake Norman, as well as the beaches of North and South Carolina and Key West, FL. John had a lifelong love of animals, especially dogs.
Survived by his son John William Rathemacher III and his wife, Amanda, his mother Patricia, sister Marie Rathemacher Reo and brothers Peter, Henry, Christopher and Paul Rathemacher.
Funeral services will be held at 11:30 am Saturday at Holy Spirit Catholic Church, 537 N Hwy 16, Denver, NC. The family will receive friends at 10:30 am at the church and will be gathering at John's home after the services at 7852 Green Cove Ct in Denver.
Donations may be made in lieu of flowers to Saving Grace Dog Rescue and Adoption at http://savinggracenc.org/donation/