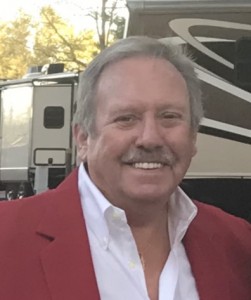 John Ervin Rice Sr.
(November 28, 1947- June 18, 2018)
After a courageous and hard-fought battle with cancer, John Ervin Rice, found peace and rest in the arms of Jesus.
Born on November 28, 1947 to the late Felix Jiles and Virgina Deaton Rice, he was tenth of thirteen children. He enjoyed a strong bond with all his siblings and while many of his brothers and sisters are rejoicing with him in heaven, he is survived by five remaining siblings. Mrs. Barbara Bullard of Bennettsville, SC, Mrs. Patti (Glenn) McGinnis of Charlotte, Mrs. Diane (Wayne) Husband of Charlotte, and Ms. Darnell Rice of Charlotte. His brother Gary (Debbie) Rice of Concord, was not only a brother, but a best friend to John. He also loved his many nieces and nephews.
John was a native of Charlotte, and while his work and love of travel took him around the country, he always found his way home. His life's passion was working in the film industry, where he met many friends that have become his second family.
A motorcycle and car enthusiast, he owned many custom automobiles and motorcycles over the years, but his favorite car by far was his treasured 1961 Chevrolet Impala. Some of his best days were spent on long drives in this car and he loved to show it to anyone who asked about it. And everyone always did.
Charming, quick with a joke and always the best dressed man in the room (according to him), John had the ability to win over even his toughest critics. Rarely did he just attend a party, he WAS the party. He would crack a smile, his beautiful blue eyes would get that sly look and you knew that a great story was coming. Many of these stories included his lifelong friend Terry Polly. A true definition of a friend until the very end, Terry and his wife Toni stayed by John's side through thick and thin. The family would also like to thank Ms. Janice Baker for her friendship and kindness.
Perhaps those who will miss John the most are his children and grandchildren. Left with a lifetime of memories and broken hearts are his son John Ervin Rice Jr, his daughter-in-law Darlene (Hutchins) Rice, their children, Ashlee (Aaron) Kennemore, Lauren Rice and Austen Rice. His daughter, Emilee Rice Martin, his son-in-law James, as well as their children, Jackson and Kaylee Martin and the most recent light of his life, his great grandson, Andrew Kennemore – all of Denver, NC. John was proceeded in death by his second born son, Gary Paul, a loss from which he never fully recovered. The one source of comfort is knowing that John is not only with Jesus, but also with his son, and while we rejoice at this fact, we know there will forever be an ache in his absence.
John had many, many friends, but only one great love of his life.
The family ask that people send flowers. Lots of them – he would have loved that.
We also ask that you remember John the way he want to be remembered. Think of him when you take a long drive with the windows down. Listen to a Merle Haggard song, and if possible, learn to play it on the guitar. Buy a crazy, over-priced shirt that no one else would buy and wear it with swagger. Tell people you love them. Have a party and be a gracious host. Hug your kids. Find the people who make you laugh until your belly shakes and hang out with them as much as possible. Take trips and see the places you want to see. Eat food that you love. Cheer for the Panthers.
Our time is short, and John learned to make the most of his. This was never more evident than the last weeks of his life when friends and family poured in to spend as much time with him as possible, just for the chance to say "I love you" or to hopefully hear one more story, just one more joke or see that smile. He will be greatly missed. A graveside service will be held in celebration of his life at 10:00 a.m. Thursday, June 21st at Gethsemane Memorial Gardens, 1504 West Sugar Creek Road, Charlotte NC, 28262. Pallbearers will be James Martin, Jack Martin, Aaron Kennemore, Gary Rice, Scott Rice and Terry Polly. The Good Samaritan Funeral Home in Denver is serving the Rice Family