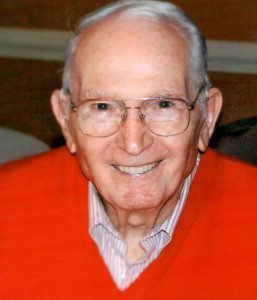 Jimmie Dwight Allen, 86, of Denver, NC passed away on Tuesday, January 28, 2014. Born on May 13, 1927 in Charlotte, NC, he was the son of the late John Claudius Allen, Sr. and Teula Scruggs Allen.
Mr. Allen honorably and  proudly served his country as a member of the Army Air Corps stationed in the South Pacific on the island of Guam in the months following World War II.
Mr. Allen retired after a long career with Kemper Insurance in Charlotte, NC.
Most central to Mr. Allen's life was his faith in Jesus Christ. He was raised as a member of EnderlyParkBaptistChurch in Charlotte, NC which later became UniversityHillsBaptistChurch. After retiring and moving to Denver, NC. Mr Allen joined WestportBaptistChurch where he was a faithful member and served in many leadership roles.
Mr. Allen will be remembered as a lover of people, especially children. He was affectionately known as the "Candy Man" in Denver for the treats he handed out to the many children in restaurants and at church  he would interact with. His family remembers him for his tremendous spirit of love and willingness to help others.
Besides his parents, Mr. Allen was preceded in death by his brother, John Claudius Allen ( Jack ) and nephew James B. Allen.
Mr. Allen is survived by his loving wife and constant companion of 62 years. Margaret Beam Allen; sisters Jean McKellop and Jerrie Martin       ( Wiley ) of Denver, NC; sister in law Virginia Allen; brother and sister in law Charles and Betty Beam; nephews Jim Beam (Linda), David Allen (Kimberly), John Allen (Lynne), Steve McKellop (Mary), Mike McKellop (Jennifer), John Martin (Andie) James Martin (Emilee); nieces Marsha Kent (Stephen), Michele Simmons (Bryan) and many  other great-nieces, great -nephews, friends and loved ones
A Celebration of Life Service will be held at 11:00 AM on Saturday, February 1, 2014 at Westport Baptist Church 2372 Lake Shore Rd. South Denver, NC 28037 ( Corner of North ( Business) Highway 16) . The family will receive friends from 9:30 AM to 10:30 AM. before the service The graveside service will take place at Forest Lawn Cemetery West in Charlotte at  2:30 PM that afternoon
In lieu of flowers, memorials can be made to WestportBaptistChurch
The Good Samaritan Funeral Home, Denver, is serving the family of Mr. Allen