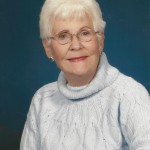 Jeanne Marie Schanen McKenry, 87, passed away on April 19, 2015 in Mooresville, NC. She was born December 27, 1927 in Philadelphia, Pa. to Paul and Rose Schanen
Jeanne was a graduate of Westhampton College-University of Richmond with a BS in Biology and worked in cancer research before devoting her life to her four children, husband and friends. She started and ran a very successful thrift shop at Trinity Presbyterian Church in New Jersey and volunteered for many years running the gift shop at Lake Norman Regional Medical Center in Mooresville. Everyone she met became a friend.
She was preceded in death by her parents, and her husband, Robert McKenry Sr. who passed away in 1994.
She is survived by her loving daughters Barbara Wrigglesworth (Rick), of Denver, NC, Diane Sutkus (Michael) of Southington, CT., Nancy Chatterton (Gerry) of Atco, NJ. and her son, Robert McKenry Jr. (Robyn) of Littleton, Co. She also leaves her beloved 8 grandchildren and 5 great-grandchildren.
A Memorial Service will be held Saturday, June 6 at 2:00 PM at First Presbyterian Church in Mooresville, NC. The family will receive guests following the service. Refreshments will be provided.
The Good Samaritan Funeral Home in Denver, NC. lovingly cared for Jeanne and her family after her passing.