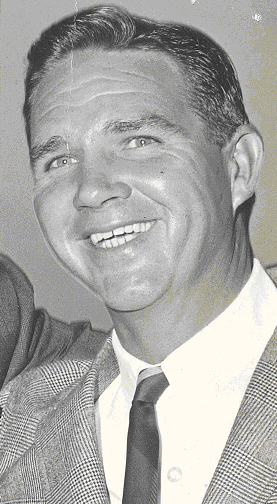 James "Ted" Theodore Crunkleton Jr., Denver, North Carolina
December 15th, 1930 to August 18th, 2014
James "Ted" Theodore Crunkleton Jr. passed away in comfort and in peace August 18, 2014, after a long illness. Ted enjoyed 83 years of life, including 60 years with his loving wife, Margie. Ted and Margie married following his return to Gaston County after proudly serving in the US Air Force during the Korean conflict. Their sixty years together created many accomplishments – most importantly, their four children: Kim Alix (husband Jon); Ted Crunkleton lll (wife Maggie); Christopher Crunkleton; and Gary Crunkleton (wife Megan). Ted and Margie have six wonderful grandchildren: Isabella Alix, Breanna Crunkleton, Leanna Crunkleton, Montgomery Crunkleton, Hudson Crunkleton, and Beaufort Crunkleton. Teddy loved being a grandfather, and his grandkids loved him for it.
Ted's accomplishments as a gifted high school and college athlete earned him the privilege of a college education at Belmont Abbey College ('59) and Master's degree at Appalachian State Teachers College following his global travels with the US Air Force. Later, Ted coached Baseball, Basketball, and Soccer at Sacred Heart High School and the Abbey. During his tenure as the Baseball coach at the Abbey, Ted earned the honor of being named Atlantic Coast Conference (ACC) Coach of the Year in 1967, and had the pleasure of coaching three Baseball College All American players. Ted also served as the Abbey's Director of Athletics for several years, and was inducted in the Abbey's Athletic Hall of Fame and Honored by the National Baseball Hall of Fame in 2008 for his coaching career.
Ted and Margie raised and cared for their family, provided a nurturing home on the peaceful shores of Lake Norman, and maintained many life-long friendships. Ted certainly was a very accomplished man given his modest beginnings in a small southern town. Ted's sister, Erma Crunkleton Burgess, preceded him in death. Ted's brothers Dave Crunkleton of Las Vegas, Nevada and Bobby Crunkleton of Gastonia, North Carolina survive him.
We are all saddened by Ted's passing, but we believe his love for people, compassion to teach, and toughness in adversity will continue to thrive through his family, friends, and each individual life he touched. Please join his family as they remember their father at Celebration of Ted's Life on Saturday, August 30, 2014, from 3:00-4:00PM at Good Samaritan Funeral Home 3362 N. Hwy 16, Denver, NC 28037 (704.483.2124).
The Crunkleton family is tremendously grateful for the kindness and gentle care provided by The Levine & Dickson Hospice House. In lieu of flowers, we ask that donations in memory of Ted Crunkleton, Jr. be made to: The Levine & Dickson Hospice House, 11900 Vanstory Dr, Huntersville, NC 28078.