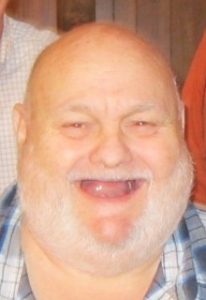 James Roy Steelman Jr., 67, of Denver, passed away on Friday, June 21, 2019 at Levine & Dickson Hospice House in Charlotte, NC. Born on November 3, 1951 in Rowan County, NC., he was the son of the late Martha Shoaf Steelman and James Roy Steelman Sr.
James graduated with a GED from high School. He was a truck driver hauling mail for the United States Post Office between Charlotte and Greensboro, NC. He also found comfort in volunteering on the East Lincoln Rescue Squad and the Denver Fire Department.
James also served proudly in the United States Army.
Besides his parents, James was preceded in death by his only beloved daughter, Michelle E. Steelman whom he is now reunited with; brothers Donald and Michael Steelman and sister Diane Pinkston.
James is survived by his devoted wife of 32 years Linda Steelman; sister Judy Overcash of Rockwell; brother Jimmy Steelman of Salisbury and his extended family Lisa Osteen and Baeleigh Osteen and special thanks to Madisyn Steelman.
The family will receive friends on Wednesday, June 26, 2019 from 5:00 PM to 7:00 PM at The Good Samaritan Funeral Home 3362 (Business) North Highway 16 Denver, NC. 28037.
Funeral Service will be held on Wednesday, July 3, 2019 at 3:00 PM in the Chapel of Rowan Memorial Park Salisbury, NC. Officiating will be Rev. Gary Fulker. Interment of ashes will follow.
In lieu of flowers, donations in James' memory to the Child Abuse Coalition of Lincolnton, NC would be deeply appreciated.