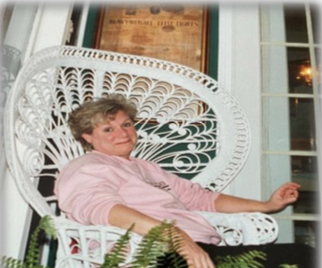 Gail Wohlin – December 31, 1942 – August 21, 2020 
It is with great sadness that we announce the death of Gail Wohlin. Our hearts ache at how quickly she passed after being diagnosed with cancer, but we find solace that she suffered for only a short amount of time, passing peacefully and surrounded by love. Gail leaves a legacy of kindness, humor, and joyful memories to comfort her many friends and family in celebration of a life well lived.

Gail was born in Hackensack, New Jersey on December 31, 1942 to the late David Thomas Yeoman and Betty Brown. Gail was also predeceased by her husband of 40 years, Kenneth O. Wohlin; her son Kenneth J. McCloskey, and her brother David Thomas Yeoman, Jr.
She is survived by her sister-in-law Maureen Yeoman and her stepchildren Kenneth Eric Wohlin and Tracy Wohlin and her step-granddaughter Hayley Ferriole. She leaves behind her dear friend and housemate Susan Rozycki and Susan's family, along with countless loving and lasting friendships.

Gail resided in Brick, New Jersey for many years, before moving to Florida, and then to Denver, North Carolina. Gail spent much of her career as a legal secretary and restaurant server. She was part owner of the Barber Shop Cabaret and Restaurant for 12 years. Gail developed loving and lasting friendships with countless people across the many stages of her life. She remained close to the end with friends who knew her from childhood, her years at Westwood High School where she graduated in 1960, and her years in Brick and Denver. Her generosity of spirit will leave a lasting impression on all who knew her.

A memorial celebration will take place at a later date in New Jersey.

In lieu of flowers, we suggest memorial donations to Hospice and Palliative Care Charlotte Region, PO Box 470408, Charlotte NC, 28226 (www.hpccr.org), or HATS (Helping Animals to Survive) PO Box 243, Denver, NC 28037 (www.hatsalive.org).