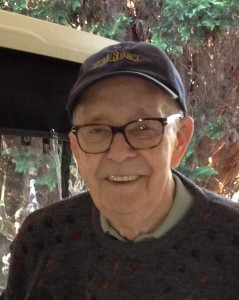 Donald (Don) Ray Bradley, Sr. age 90, was called home on 12/17.  Don was born in Chester, PA on April 24, 1296 to Norman and Leona Bradley.
Don was preceded in death by his loving wife of 53 years, Joann, in November of 2001; brother, Norman Bradley; his sister Billie Hammer (Carey); his mother, Leona Carey.
He is survived by his brother, Thomas Carey and sister-in-law, Phyllis Torrack, his son, Donald Bradley, Jr.; daughter, Jane Roddy; grandson, David Lackford;  Brad Lackford and his wife, Stephanie;  great grandchildren(David), Jai, David, Jr., Jace, and Gracie and many nieces and nephews.
Don served our country during WWII as a proud member of the U. S. Army.  He worked as a drywall finisher and a member of the Painters Union until retirement. Don was the last surviving member of his childhood group called "The Patch Boys" where he enjoyed playing all types of sports with his buddies. Don enjoyed playing cards, dancing, boating and GOLF, spending time with his family.
A Celebration of Life service will be held December 22, 2012 at 11:00 a.m. at Abernethy Laurels, Spirit Place, 102 Leonard Avenue, Newton, NC 28658.  828-464-8260. Luncheon immediately following service.
The family would like to extend a special thank you to all of the staff and good friends at Abernethy Laurels for all of their support and friendship since 2009.  Everyone made him welcome and at home.