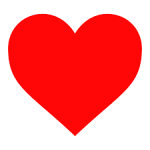 Something to think about
In my 35 years of working in the funeral home industry, I have reviewed thousands of death certificates. I have seen how cancer involves almost every part of the human body. I have seen Cancer of the Brain, Lungs, Liver, Stomach, Kidney, Colon, Pancreas, Intestines, Gall Bladder, and Bladder etc…
I have seen how cancer affects the Reproduction, Digestive, Endocrine, Respiratory Systems. I have seen Skin cancer, I have seen Bone cancer.
I have seen about every type of cancer on a death certificate except for one site in the human body. What site is it?
I HAVE NEVER SEEN CANCER OF THE HEART APPEAR ON A DEATH CERTIFICATE.
What is my theory about cancer and the heart? I believe that cancer is already in the body and when the heart goes into some kind of distress, such as a heart attack, cardiac arrhythmia, stress, depression etc, it sends out some kind a genetic code that says something is wrong. When cancer hears the different beat of the heart, it comes to life and seeks to attack.
We always hear the term" Cancer Causing." Maybe we should say, "What causes cancer to react?"
My grandmother and father in law had heart attacks. Five years after my grandmother had her heart attack, she developed stomach cancer. A few years after my father in law had his heart attack, he developed esophageal cancer.
I believe if we study the heart, we will have the answer to Cancer.
-Mike Costigan