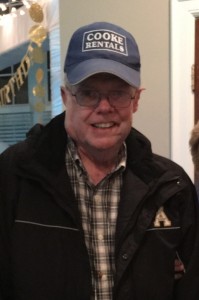 Byron Stone Cooke, 72, of Sherrills Ford, NC passed away on July 15, 2016. Born on December 6, 1943 in New Bern, NC., he was the son of the late Ralph C.Cooke Sr. and Nell Stone Cooke of Mt Airy
Mr. Cooke was a proud Vietnam Veteran. He was the owner and founder of Cooke Rentals (1973). He loved the company of family and friends. He was a fan of many sports especially when his grandkids were participating. He assisted with Christian Ministries and particularly enjoyed working with  the youth, seniors, various mission trips and Meals on Wheels.
Mr. Cooke is survived by his loving wife of 51 years Linda Simmons Cooke; 3 sons, Byron Andrew Cooke and his wife, Lori, of Mooresville, Benjamin McRae Cooke and his wife, Lone, of Mt. Airy and Chad Simmons Cooke of Sherrills Ford; grandchildren Jordan, McRae and Caroline Cooke of Mooresville, Hanne, Peter and Martin Cooke of Mt. Airy and Tyler and Chase Cooke of Sherrills Ford;  brother Ralph  C. Cooke Jr. and his wife Sue of Mt. Airy.
Service will be held at 2:00 PM on Monday, July 18, 2016 at Westport Baptist Church 2372 Lake Shore Road South  (at the corner of  Business Hwy 16 ) Denver, NC 28037. Senior Pastor  Rev. Steve Owenby  of Westport Baptist Church and Rev. Dr. P. Glenn Kinken,III of Davidson UMC will officiate. The family will receive friends following the service in the Church Fellowship Hall.
In lieu of flowers, donations in Mr. Cooke's memory may be made to Westport Baptist Church or  First Baptist Church 714 N. Main Street Mt. Airy, NC. 27030