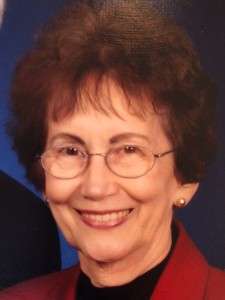 On April 27, 2018, Barbara Ellen (Gaudin) Stringfield of Denver, North Carolina, formerly of Muncie, Indiana, was called home at the age of 83, and entered the presence of her Lord and Savior, Jesus Christ. She was born on January 24, 1935, in Vevay, Indiana, to the late Walter E. "Jim" and Rena (Montooth) Gaudin.
Barbara was a dedicated wife and mother. She is survived by her devoted husband, Jim, of almost 63 years, and their children: Gregory Stringfield and wife, Isabelle, of Yorktown, Virginia; Kimberly Erwood and husband, Brian, of Indianapolis, Indiana; and Karen Singleton and husband, Steve, of Denver, North Carolina; and four grandchildren: Joshua, Sarah, and Joseph Erwood, of Indianapolis, Indiana; and Jacob Singleton of Denver, North Carolina.
Barbara graduated from Vevay High School in 1953 and Indiana University in 1955 with an Associates of Arts degree in business after which she worked as an executive secretary.
Barbara enjoyed cooking, entertaining, sewing, quilting, attending national conventions and cross stitching. She was active in her church, the Village Belles Homemakers, Tri Kappa, Switzerland County Eastern Star, GOP Precinct Committee Person in Muncie, Indiana and worked with congressman, now VP Michael Pence
In 1967, she was a founding member of Westminster Presbyterian Church of Muncie, Indiana, and attended South Lake Presbyterian Church in Huntersville, North Carolina. She taught countless Sunday school classes to children, was involved in women's Bible studies, played the piano and was an active church choir soprano.
Barbara was known for her compassion for others, delicious meals, especially pies and cookies; and along with Jim, they welcomed to their home family, friends, college students and large groups. They had many house guests especially, young couples, missionaries and visiting pastors.
She is preceded in death by her parents, Walter E. and Rena (Montooth) Gaudin; a brother, Edwin Gaudin; and a sister, Juanita Jane (Gaudin) Keppler.
A celebration of life service to honor Barbara will be held at 5 pm on Thursday, May 24, 2018 at Unity Presbyterian Church, 8210 Unity Church Road, Denver, NC, with visitation afterwards. On Saturday, July 28, a celebration of life service will be held at 3 pm at Westminster Presbyterian Church, 2801 W. Riverside Avenue, Muncie, IN, with visitation from 1-3 pm.
In lieu of flowers, memorial contributions may be made in Barbara's name to South Lake Presbyterian Church, Huntersville, North Carolina; or Unity Presbyterian Church Denver, North Carolina; or Westminster Presbyterian Church in Muncie, Indiana.
The family wishes to thank the residents of 3 Cherry Way and members of South Lake Presbyterian Church for their many visits and meals during Barbara's four month illness.